Programs for effective implementation of SDGs and ESGs
We will incorporate concerns about social equity, environments, and other matters in our business activities, and are committed to fulfilling our responsibilities to our employees, investors, and local communities.
Improvements of working environments
We will facilitate the workplace environments where women and senior employees can work more actively, so that diverse people can work there more actively.
01Raising the percentage of women employees
We will actively recruit women, aiming for 20% or more women recruits, so that we can increase the percentage of women both general employees and managers (regardless with titles/positions).
02Improvements of manufacturing environment
We will work to expand the range of positions for women in manufacturing divisions by improving heavy manual work, creating processes suited for women's average physical strength, amenity improvements, and making other improvements to the work environment from women's perspectives.
03Reviewing the HR management system for senior employees
We will review the wage system, extend employment, and create new posts in order to prepare an environment where senior employees can work actively.
Enrich company systems in order to make the workplace environment comfortable for both men and women who work while raising children
01Child allowance
A fixed child allowance will be paid for all infants and school-age children.
02Child-raising support allowance
Support will be provided in the amount of a half of the total expense for nursery school and after-school childcare to all women employees who are raising children, regardless of whether or not they are dependents.
03Special flexible working hours
Special flexible working hours that are less than the standard (8 hours) will be applied to persons working flexible until his/her children enter school.
04Half-day leave system for persons working reduced hours
Employees working 6-hour days will be able to acquire half-day paid leave (3 hours before and after work) in the same way as employees working regular hours.
05Promoting child-care leave for male employees
We will create an environment where a week of continuous leave can be easily taken by combining 1 day of child-care leave (paid) + 4 days of designated paid leave.
06Subsidy for costs of infertility treatment
Half of the expenses for infertility treatment is provided to employees and their spouses.
Initiatives for health management
01Kyowa Leather Cloth Health Declaration
Kyowa Leather Cloth is striving for good health management. We have made the "Kyowa Leather Cloth Health Declaration", provide specific health guidance, subsidize expenses for health examinations of the employees dependent family members, and have established a shift interval system. In 2020, we acquired certification as a Health and Productivity
Management Organization, and renewed the certification in March 2022.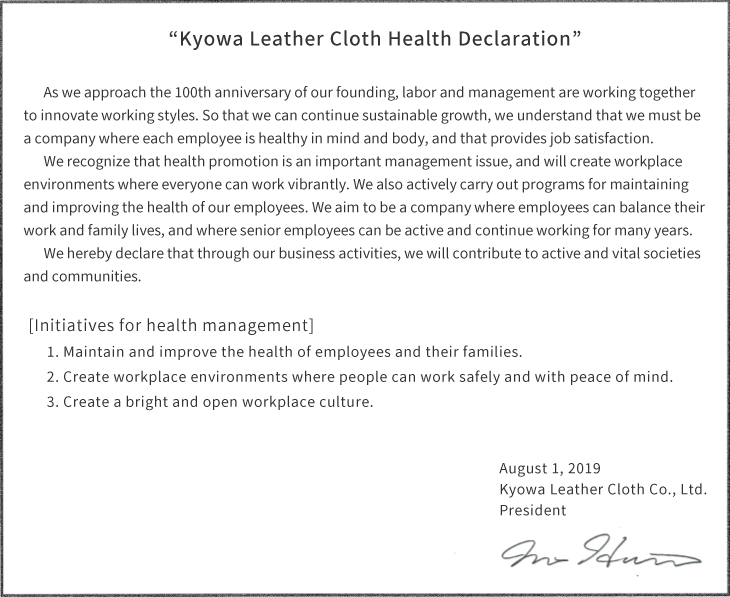 02Organization for promoting health management
Kyowa Leather Cloth has made an organization for promoting health management and carries out activities to promote it.
03Measures for preventing COVID-19 infections
As the COVID-19 pandemic still has not subsided, Kyowa Leather Cloth has enacted a variety of original measures so that our employees can feel safer.

- Health management using employee safety confirmation emails during long holidays
- Panels to prevent airborne droplets, CO2 sensors, installation of air disinfection systems
- Special loans (zero interest), expansion of student loans
- Remote working