Initiatives for the Environment
Get our wisdom together (for better use) to pass on a beautiful Earth to future generations
As a manufacturer of interior upholstery and covers for automobiles, housing, and housing fixtures, and of cover materials for fashion and lifestyle-related products, Kyowa Leather Cloth is engaged in corporate activities that work in harmony with both people and our planet. This is evident in our slogan, "Get our wisdom together (for better use) to pass on a beautiful Earth to future generations".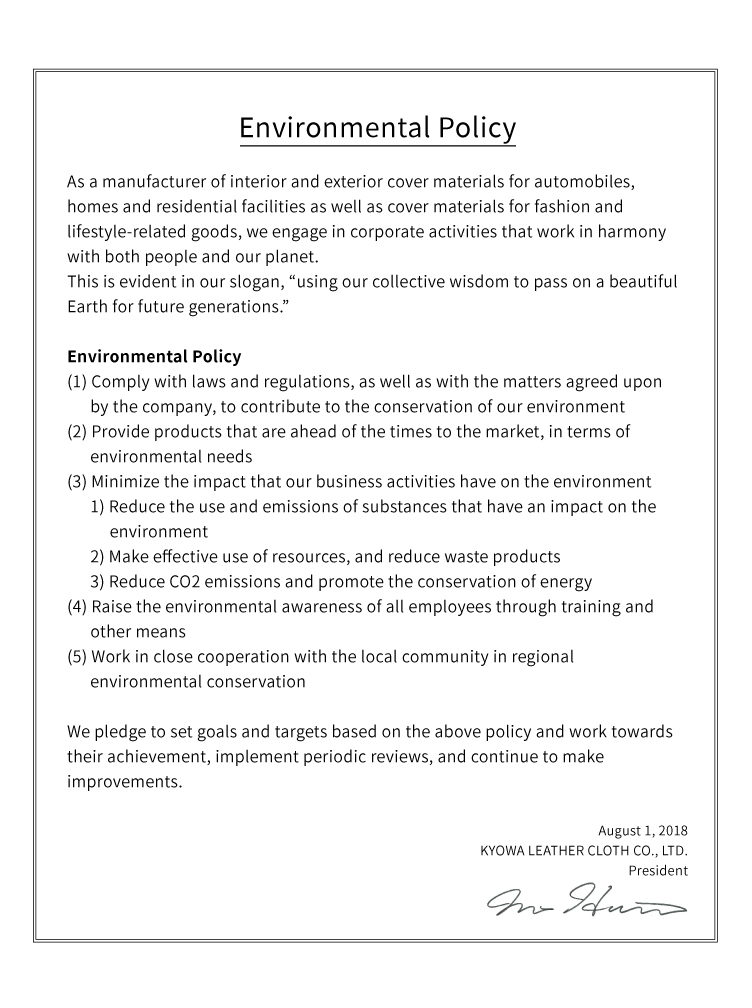 Acquisition of ISO14001
In the year 2000, our system for dealing with environmental issues was approved as being effective and sustainable, and Kyowa Leather Cloth received ISO14001 certification as a company (including all of our business facilities). We are involved in activities covering important items, such as putting our technology to work in developing new eco-friendly materials, reducing energy usage, and so on. We have also expanded 3R waste management activities company-wide, in order to steadily build a foundation as an ecologically sound company.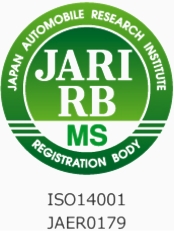 Kyowa Leather Cloth 3R activities
01. Reduction of industrial waste ("Reduce")
02. Reuse of materials for the same work process or purpose ("Reuse (Return)")
03. Finding ways to utilize materials/waste or different processes or for different products ("Recycle")
Initiatives for carbon neutrality
Based on the national government policies, Kyowa Leather Cloth has identified the amounts of CO2 which it emits and has set long-term targets (compared to 2013 level) toward achieving carbon neutrality with the three main axis; "Enhancing everyday improvement activities", "Applying technical innovations" and "introducing renewable energies".
Our targets are -30% by 2025, -50% by 2030, and zero CO2 emissions by 2050.

Aiming to be a recycling-oriented company , Kyowa Leather Cloth will keep developing eco-friendly products of low CO2 emission, looking through the areas of materials, "3R" activities, and manufacturing facilities.
01Reductions in greenhouse effect gases (CO2)
Amounts of Kyowa Leather Cloth CO2 emissions and 2050 zero emissions target (reference: 2013 levels)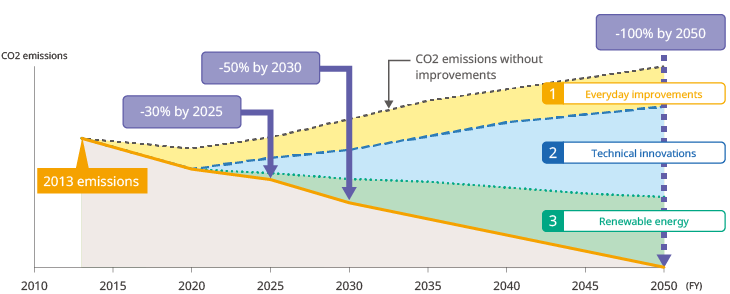 02Product development for reducing CO2 emissions